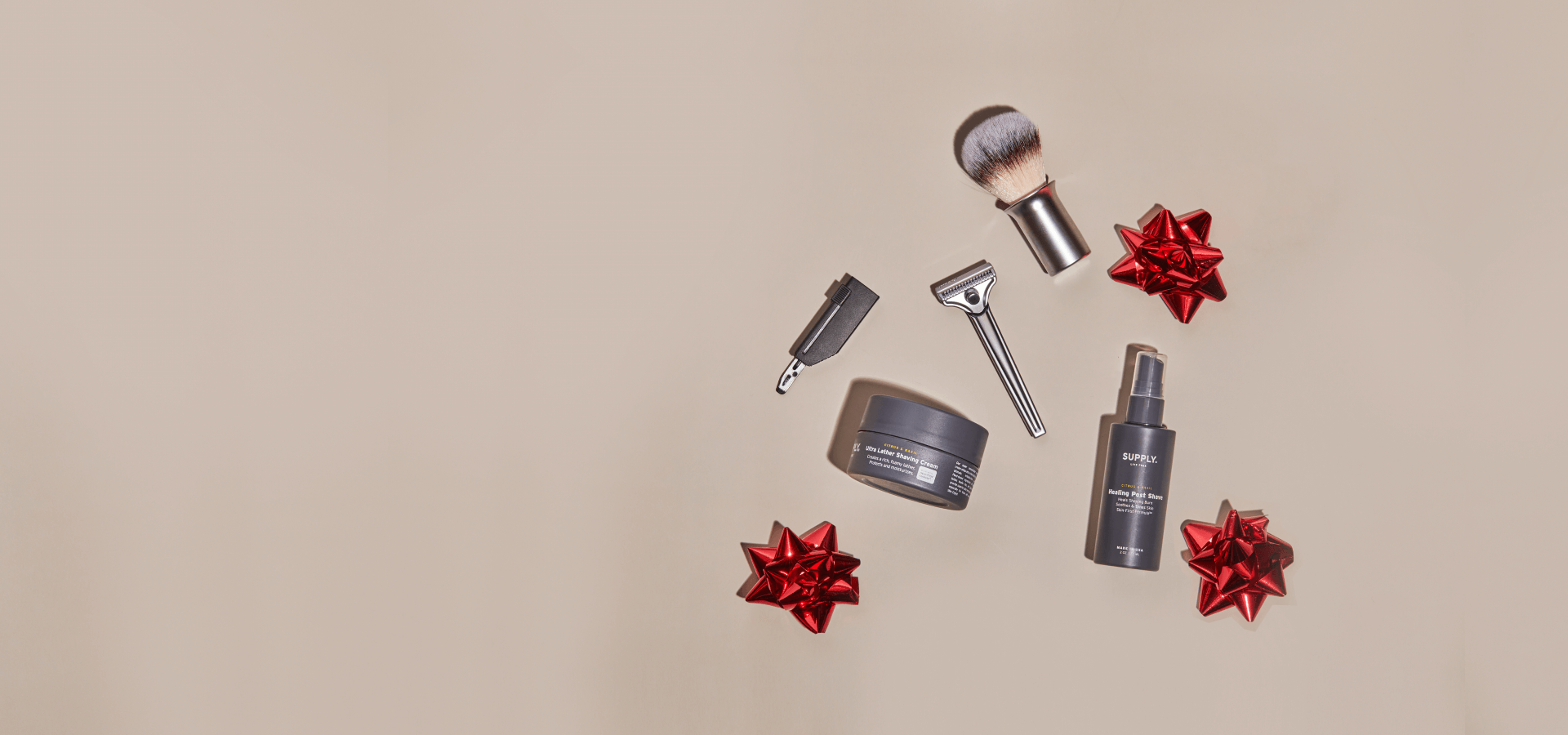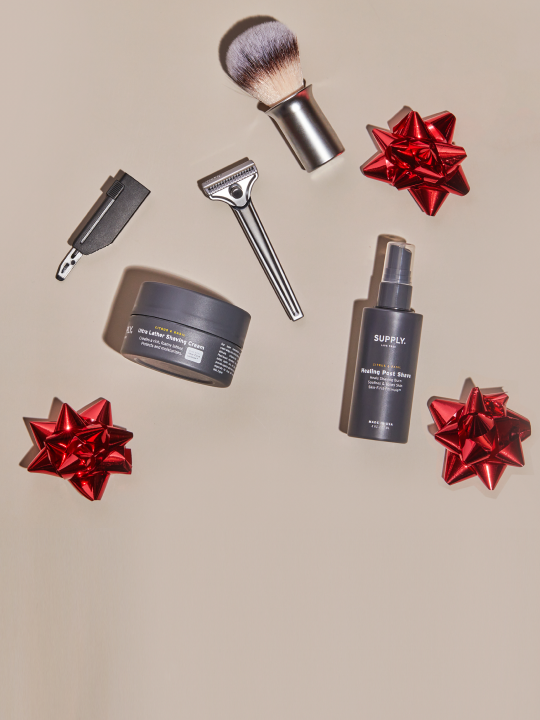 Better Shaves for Festive Days
Get up to 35% off exclusive bundles during our Holiday Sale
Early Access
NEW BluAtlas x Supply Set
We've partnered with our good friends at BluAtlas to create a special holiday bundle that combines our entire skincare line with their Atlantis cologne—voted Best Men's #1 Cologne by Forbes. Like us, BluAtlas is dedicated to creating top-notch grooming essentials that make you look and feel great
Shop Now
Limited-Edition
Polished Gold SE Razor Gift Box + Razor Stand
The Polished Gold SE Starter Set is not just a razor but a statement, complete with a free blade pack, all wrapped up in a gift box that's as stylish as what's inside. And with the sleek gold stand, your countertop display just got a major upgrade.
SHOP NOW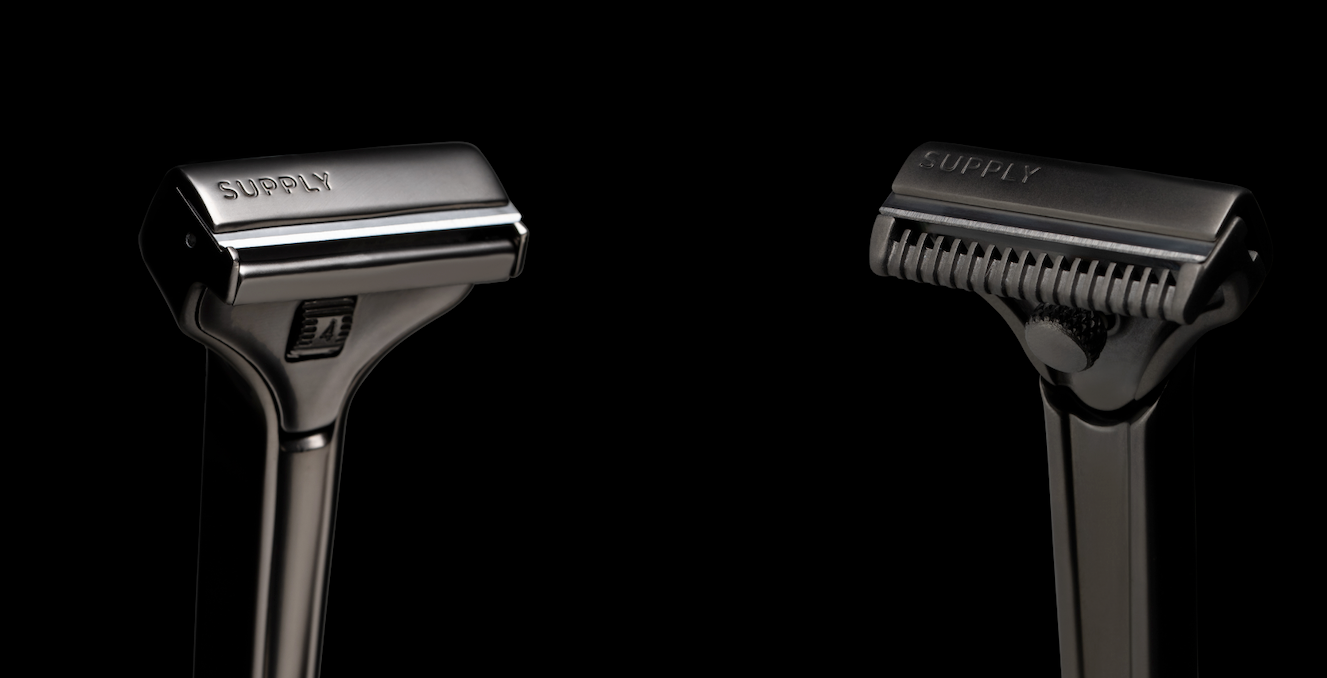 Don't know whether to go SE or Pro?
Our 30-second quiz will help you find the razor that's best for your skin.
TAKE THE QUIZ
The Best Thing Since Sliced Beard
You're Going to Shave 20,000 Times in Your Life. You deserve to love it.  
We believe great skin starts with a great shave.
So, seven years ago we set out to set people free from subpar shaves and damaged, dried out skin. We fuse vintage shaving tradition and plant-based ingredients with state-of-the-art of engineering and modern science. The result? A shave you love and healthy, younger-looking skin. 
"Their single-blade, perfectly weighted razors take the guesswork out of safety-razor shaving."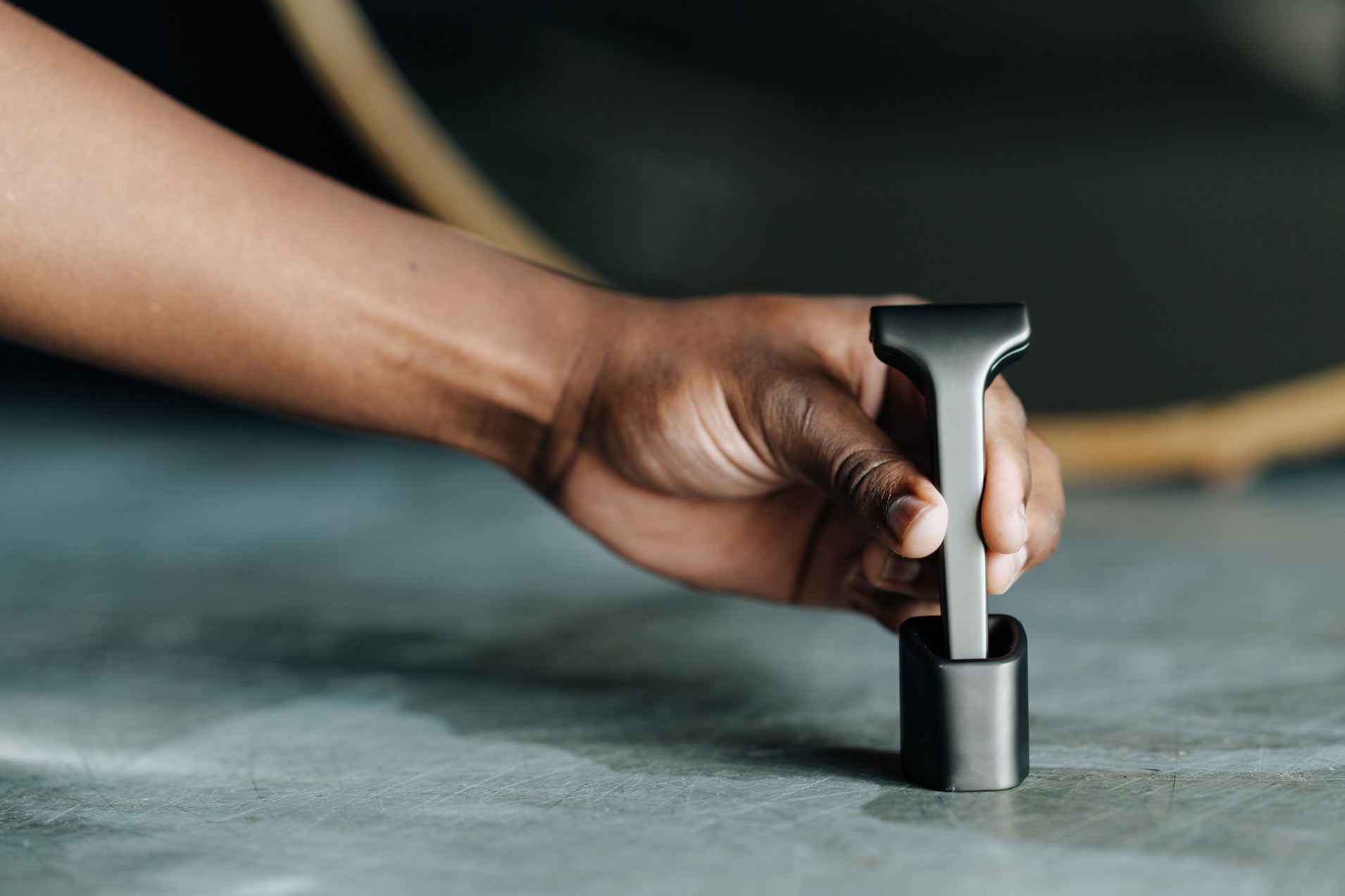 "...designed to minimize skin irritation, razor bumps, ingrown hairs and razor burn."
★★★★★

This razor is everything I thought it would be when I ordered it. Super easy to use (coming from a multi blade) and the scent (coastal) is absolutely perfect. Definitely excited to change the shave setting to comfortable for a closer shave!

Nicholas Adamczyk
★★★★★

I'm easing myself into these products. I got the razor but was using cheap foam. Now I'm using the shaving cream and won't go back. You MUST watch Patrick's video!!! Shaving is much smoother, no nicks, and I think but not sure, longer blade life. It's amazing how little you need (finger tip).

George Boulter
★★★★★

I have never been into shaving or looked forward to shaving ever. I always hated it. This razor and starter kit has completely changed the game for me. The razor is built to last. You know when you hold it that the 100 year warranty is real. The shaving cream and brush make the shaving experience classy and that stuff is concentrated! The after shave is my favorite. If there was a cologne like this, I'd buy it. The shave with this razor is the closest one I've ever had. It takes years off my face! I honestly look forward to shaving my face in the morning. Penny Shave Club who?

Marc Vos
★★★★★

I'm extremely thankful to Supply and their marketing team for introducing me to this razor. Every single razor I had ever used before this irritated my face, giving me lots of redness and acne. With the Single Edge I get the closest shave I've ever gotten while getting absolutely no irritation whatsoever. Do yourself a favor and invest in one if you care about your face.

Jake
★★★★★

Some women get bumps, rashes, and irritation during the summer months (or other occasions) in places we really don't want. I have experienced absolutely no irritation in my armpits, legs, or any other place we women may contend with. It was a great purchase and I am so glad I chose this. I am 100% satisfied, right down to the razor's weight in my hand! I have stainless steel, and I just love this razor. Apply NO pressure (really) and it rinses so much easier than the others! Well done! Thank you for creating this. I appreciate benefiting from your family's skills and talents.

Vanessa
★★★★★

Never been a face wash kinda guy, but this face wash takes me to a resort in Cancun each time I use it. Couple in the moisturizer and eye cream, and I feel like all the times I make fun of my wife for all the creams she uses is now on me. I have used lots of creams and I find both of these better than everything I have tried for my skin. I have the full complement of products now!

Joseph O'Donnell
★★★★★

Excellent products that work exactly as advertised and customer service exceeds expectations.

Brian
★★★★★

I have never used a post shave prior to this; I have always used a moisturizer after shaving but that is it. After using this healing post shave, I could not be happier. It has a subtle scent that is pleasing and not overpowering. I usually end up with a few razor bumps even when using the Supply single-blade razor, but this healing post shave all but eliminates these bumps and any nicks that may occur as well. I could not be happier with this product and I plan to use it from now on every time I shave. So far I have been extremely impressed and pleased with every Supply product I have tried so far and I cannot wait to try the rest of them in the near future!

Eric Requet
We are honorably discharging the 2.0 from Supply shaving service. It has been an amazing razor. It's done more than we could have ever imagined. We love it. We hope you love it. But it was time to innovate, improve and move forward. That means we will no longer stock 2.0 razors. However, the SE Shave Setting will be compatible with the 2.0 Razor Handle and is available for purchase. And all our injector blades are backwards compatible with the Single Edge 2.0. Read More.
Multi-blade razors are designed to shave below the surface of your skin, pulling hairs up and cutting them too close. This causes irritation and ingrown hairs. The Single Edge is designed to shave at the surface of your skin, providing a close, comfortable, and irritation-free shave. We're so convinced you'll love the single blade shave that we offer a 100-day trial, and free shipping + returns to the US. You've got nothing to lose - give us a shot today!
Whether you shave with cheap disposables, modern multi-blades or traditional safety razors, the Single Edge is a serious upgrade to your morning shave and can help reduce irritation. Here's why:
It shaves at the surface of your skin. 
Multi-blade razors are designed to shave below the surface of your skin, pulling hairs up and cutting them too close. This causes irritation and ingrown hairs. The Single Edge is designed to shave at the surface of your skin, providing a close, comfortable, and irritation-free shave.
It requires no pressure when shaving. 
With multi-blade razors, you've probably found that you have to press the razor against your face while you shave. Here's the deal: you're doing too much. You might think you're achieving a closer shave, but in reality, you're only creating an uneven surface to shave on, which won't properly cut the hairs. But with the Single Edge, you want to think of it like you're sweeping the hair off your face - not scraping it off. The Single Edge perfects this and literally wipes the hair away. Your job is to simply guide the razor and it will do the rest.

Easy to clean in between passes. 
Every time you take a stroke while shaving, your blade accumulates shaving soap, hair, and skin. This build-up prevents your blade from getting that clean close shave every time and can also cause skin irritation. The Single Edge fixes this by being easy to clean in between shaves and never clogging up like multi-bladed cartridge razors.
No – and they never will be. The Single Edge accepts standard "injector" style blades. These blades have been in production for 100 years and can be easily purchased on our website, Amazon.com, and more. Each Single Edge Razor ships with a magazine of 8 stainless steel, American-made injector blades. A pack of blades typically lasts up to three months and only cost $0.75 per blade to replace.
Of course! We recommend it. We encourage it. It's the first safety razor for every-body. Our Nickstop™ Technology means you can take this thing anywhere. This is the first time that everyone can experience a smooth, irritation-free shave all over their body with one razor.