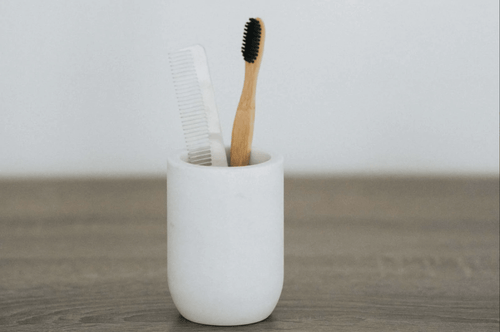 NOT YOUR AVERAGE ROCK
Handcrafted in Agra, India
Nice looking and sturdy tumbler
Using the tumbler to hold my brushes. It is very nice looking and is sturdy enough to hold the brushes. It is very easy to keep clean.
I'm so glad to you are loving your Marble Tumbler -- it really means a lot! If ever there is anything we can do for you, just let us know!
Marble Tumbler
A real classy piece of marble. It looks great and really complements the shaving bowl and tray.
Tumbler
Great tumbler. It is SUPER durable and is a great accessory as it gives me a place to store my toothbrush which is absolutely an upgrade from leaving it on my sink counter.
Hey Matt! Thrilled to hear you are loving your new Marble Tumbler. Let us know if there is ever anything we can do for you!
Tumbler
Great. Toothbrush looks great in it
Hey Alexander! Thrilled to see you are enjoying your Tumbler so much - It's perfect for the toothbrush. Let us know if you ever need help with anything else!
Beautiful & useful
Great addition to my save den/bathroom. Holds my toothbrush and toothpaste next to my other great gear!
Hey Harold! I'm thrilled to hear you are enjoying your Single Edge. We love having you as a customer!
Love it
My wife and I loved it the whole set! The marble tumbler is a beautiful and functional piece.
Nice addition to the bathroom vanity
Waited a while for this Tumbler to come back in stock but worth the wait. Coordinates with the shaving bowl. Supply razors, shaving and skin supplies, and accessories are outstanding. Great company.
Marble Tumbler
Great quality, great look.
Love the marble tumbler!
As advertised and exactly what I was looking for. Nice weight, finish and look. Way to go!